Containers
Rent your container at Worldwide Baggage Services
Container rental
If you have more than 15m3 to ship it is advisable to rent a container. See below for more information about renting a container.
The most common size is a 20ft container with an absolute loading space of 33 m3. We also offer 40ft containers which are twice the size of a 20ft container.
Information
Note the following:
You are responsible for loading/stowing the container and counting the number of pieces, to be indicated on the packing list.

The container will be placed at the loading address, on the truck chassis, about 1.5 meter above ground level. The free un/loading time is two hours, after which € 50 will be charged for each additional hour; WBS can give you advise on how to load the container, or through WBS you can hire a loading team. You can request to offload the container on ground level and to be picked up a few days later.

Addresses both at origin and at destination must be accessible for a big truck and sufficient space must be available to park for a limited period of time without disturbing other traffic. At destination you are responsible for offloading the container.

The clearing agent at destination will arrange all customs formalities. You are responsible for providing all necessary documentation and (import) licenses if required. We strongly advise you to contact the Embassy or Consulate. Extra charges due to incorrect documentation, will be for your account. Local duty/tax is not part of our quotation.

In order to cover the Avery Grosse (rescue- and salvage charges) a Transport Insurance is required! Be advised that insurance does not cover damage due to ill-loading or badly packed items.

For security purposes you can lock the container, preferably with a disc-lock and keep the key. In case Customs needs to inspect the goods, the lock will be removed.
Rate request
Use the request form on the right to make a quote request. 
20ft container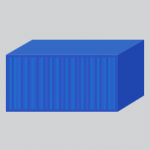 External dimensions
lxbxh in CM
606x244x259
Internal dimensions
lxbxh in CM
590x235x239
Door opening in cm., wxh
234x228
40ft container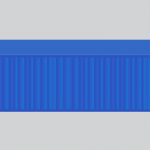 External dimensions
lxbxh in CM
1219x244x259
Internal dimensions
lxbxh in CM
1204x235x239
Door opening in cm., wxh
234x228
Your package from A to Z
Your travel agency for cargo